News
State of Biosimilars in 2023 and Looking Ahead to 2024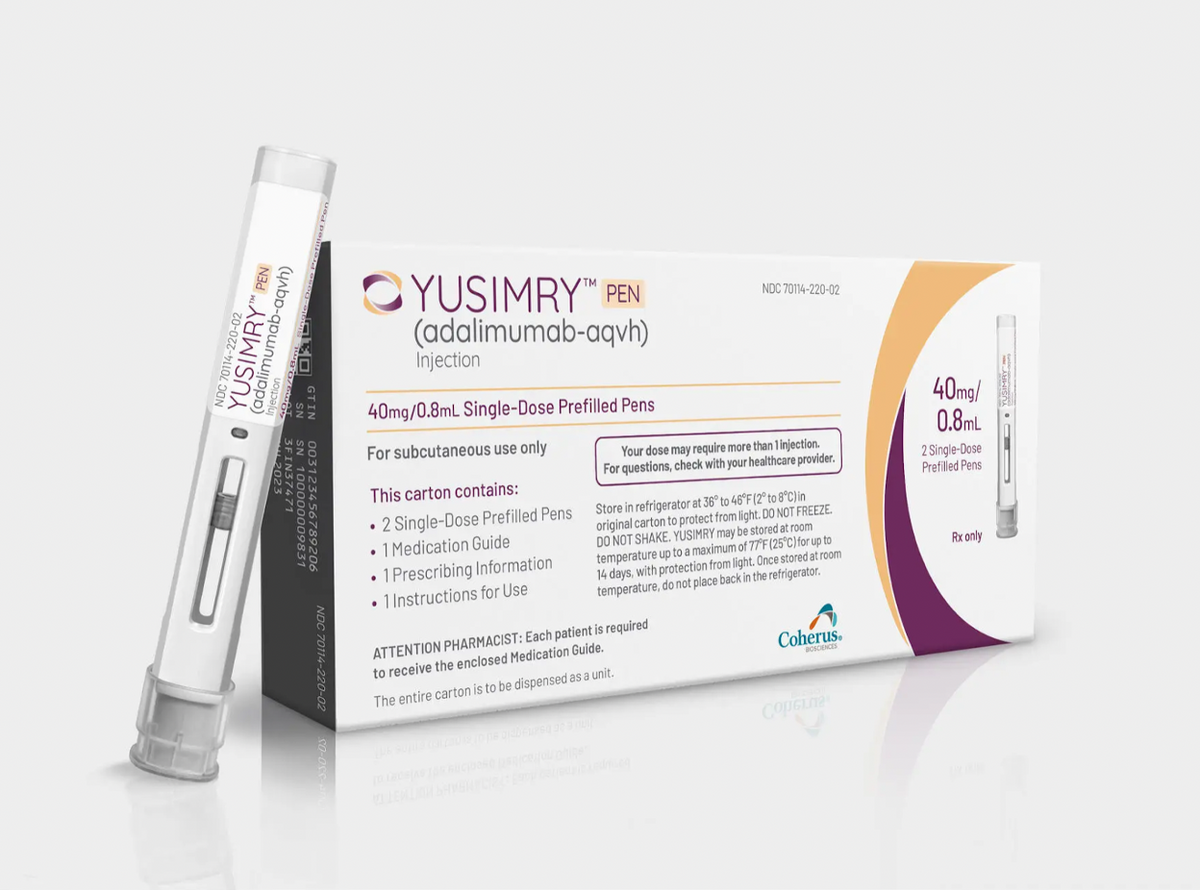 As 2023 draws to a close, the world of pharmaceuticals is abuzz with the transformative potential of biosimilars. Unlike traditional generic drugs, which are exact replicas of small-molecule branded medications, biosimilars are near-copies of complex biologic drugs produced by different manufacturers.

The burgeoning biosimilar market in the U.S. is not just about increasing drug accessibility—it's also about substantial economic benefits. The entry of biosimilars has consistently shown to reduce drug costs, with significant percentage savings compared to their originator counterparts. We will review the past, present, and future of biosimilars. Specifically, recount the historic impact US healthcare savings, spotlight the long-anticipated Humira (adalimumab) biosimilar, and gaze into 2024/2025 as the Inflation Reduction Act unfolds its influence.

A Boon for U.S. Healthcare Savings

Biosimilars have carved a legacy of affordability in their wake. Their market entry has consistently wielded a downward force on drug costs, echoing savings that resonate deeply with both healthcare providers and patients.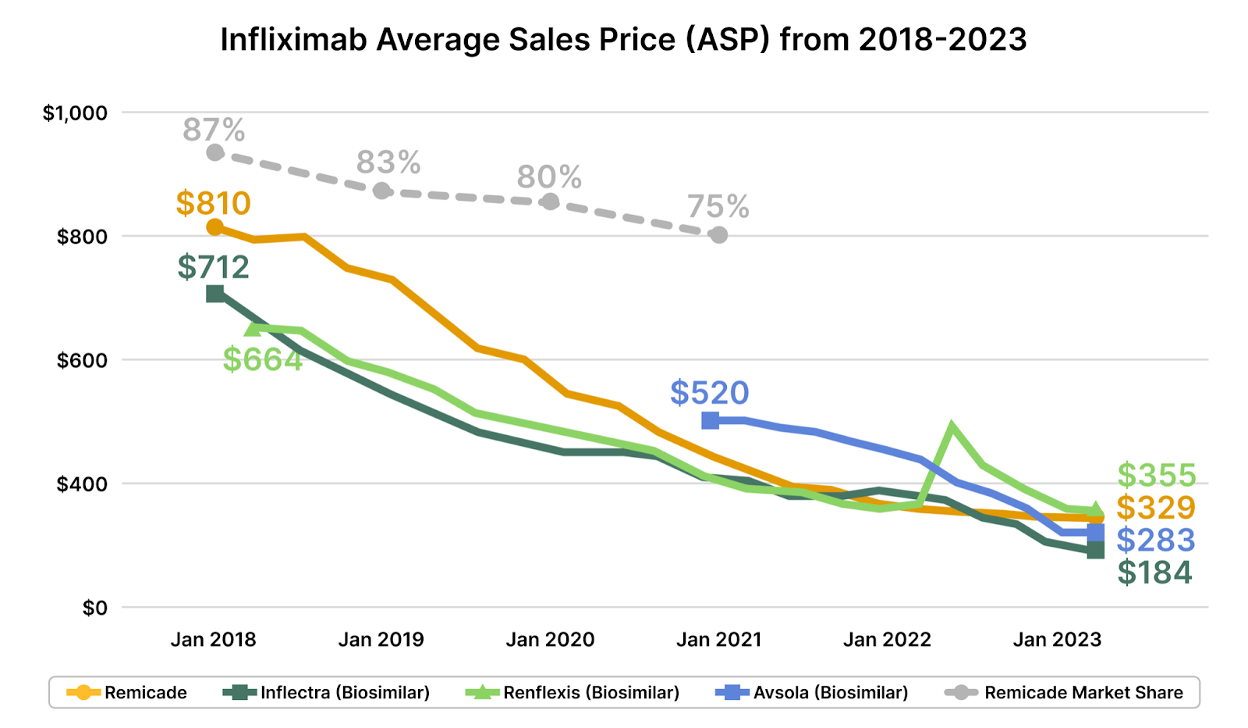 From Infliximab's Inflectra and Renflexis, which undercut the ASP of their predecessor by 15% at launch [2], to Truxima's challenge to Rituxan, resulting in a 10-20% price shrinkage, and the 10-15% savings introduced by Herzuma and Kanjinti against Herceptin – the fiscal impacts are tangible. In Europe, these drugs saw a cost plummet of over 25% post-biosimilar introduction. The U.S., though a tad slow off the mark, is catching pace, and a trend of shrinking prices for both originators and biosimilars is emerging.

Humira Biosimilar

Cue in the headline-stealer of 2023: Yusimry, the eagerly awaited Humira biosimilar. In a transformative move for the healthcare and biopharma industry, the partnership between Mark Cuban Cost Plus Drug Company and Coherus BioSciences stands poised to fundamentally disrupt the PBM structure that controls drug supply chain, access, and drug pricing. Their collaborative launch of YUSIMRY (adalimumab-aqvh), a biosimilar to HUMIRA®, the world's top-selling medication, in July 2023, could be the much-needed catalyst for driving down drug prices [3]. HUMIRA® biosimilars have historically faced notorious commercialization barriers, due to AbbVie's aggressive patent strategies and the entanglements of PBM rebates, which have, to a significant extent, curbed innovation and delayed market entries.

We hope this marks the beginning of initiatives that go beyond mere drug launches, challenging the complex PBM incentives and murky rebate systems that have long dominated drug supply chain and pricing.

Impact of Inflation Reduction Act (IRA)

But there's another chapter yet to unfold. The IRA, with its profound implications, is set to reshape the biosimilar landscape from 2024 and beyond. New rules from the IRA bring a cloud of uncertainty, especially around profits for those making and selling biosimilars. One standout point, Section 11002, lets negotiations for a biosimilar's market entry be delayed for up to two years. This is based on whether the HHS Secretary believes the biosimilar will likely launch within that timeframe, even if it isn't a direct swap for the original drug [4].

This introduces strange dynamics; some original drug makers might welcome biosimilar competition, believing it could be more profitable than set prices by CMS. They might even change their patent strategies or strike "pay-for-launch" deals with biosimilar makers. Or, introduce their own non-interchangeable biosimilar.

On the other side, some might negotiate with CMS to keep biosimilars out, settling for a price that's lower than now but higher than in a competitive market – and they'd likely dominate the market share.

Ultimately? Possibly fewer biosimilars entering the market. Today, in areas with biosimilar competition, prices have dived by 60% within three years. The IRA, unintentionally, might have missed the nuances of biosimilar commercialization.
---
References:
[1] drugs.com "Yusimry multiple strengths and packaging configurations Images"
[2] Centerforbiosimilars.com. "When Will Patients Benefit From Deepening Infliximab Discounts?"
[3] Coherus Biosciences. "Coherus Launches YUSIMRY™, a Biosimilar of Humira®, at $995 per Carton in U.S."
[4] govinfo.gov "Federal Register/Vol. 88, No. 126/Monday, July 3, 2023/Notices"